San Diego, October 17, 2013
Genomatica announced today that additional companies have made sample parts that use BDO made with its bio-based process technology. In June, Lanxess announced that it had converted 20 tons of BDO made with Genomatica's process at their world-scale PBT plant. Now, some of Lanxess' customers have used that PBT to make sample parts, and two are showcasing samples at Lanxess' booth (#C76/78 in hall 06) at the international K Trade Fair, which is focused on the plastics and rubber industries.
Mennekes, a leading maker of electrical products, has made electrical junction boxes; Trevira, a leading maker of high-tech polyester fibers and filaments, has made a non-woven technical textile, which are often used in protective clothing.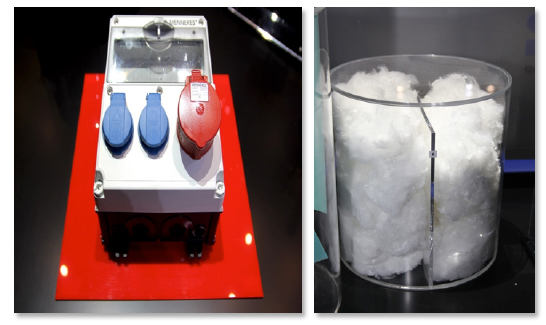 An increasing range of products are being made that incorporate BDO made using Genomatica's bio-based process technology. Shown here, a sample junction box from Menneke made with PBT from Lanxess derived from this BDO; and fibers from Trevira, for technical non-woven applications.
"These materials are the latest examples of the application usability of bio-based BDO made with Genomatica's commercial process technology," said Christophe Schilling, Ph.D., CEO of Genomatica. "These proof points follow announcements by Lanxess, DSM, Toray, and Far Eastern New Century – along with detailed technical support – validating Genomatica's process. We believe that licensees of our technology will find ever-increasing application demand for the renewable and proven version of BDO that they are bringing to the market."
About Genomatica
Genomatica is a widely-recognized technology leader for the chemical industry. It develops comprehensive manufacturing processes that enable its licensee partners to produce the world's most widely-used chemicals a 'better way,' from renewable feedstocks, with better economics and greater sustainability than petroleum-based processes.
Genomatica's first process, for BDO, is now commercial. Genomatica's BDO process was used to make 5 million pounds of BDO in late 2012; and has been licensed by BASF and by Novamont. Multiple companies, including Lanxess, DSM, Toray, and Far Eastern New Century, have confirmed that BDO produced using Genomatica's process can be used the exact same way for downstream products as chemicals made from fossil fuel feedstocks, simplifying and accelerating adoption. Genomatica is developing processes for additional major chemicals; the next is for butadiene, with Versalis as partner.
Genomatica's recognition includes the Kirkpatrick Award, recognizing the most noteworthy chemical engineering technology commercialized in the world in the prior two years; the EPA Presidential Green Chemistry Challenge Award; the Wall Street Journal Technology Innovation award; and being voted #1 Hottest three years in a row by Biofuels Digest.